PST service s.r.o. provides the opportunity to order oil seals directly from the manufacturers' warehouses at reduced prices, which allows you to optimize the oil seals warehouse for your own production, and also opens up the opportunity to organize the wholesale of oil seals in your region.

Download actual file with oil seals catalogue and hot sale' items available for ordering

How to use the PST catalogue of oil seals and how make the order

* The yellow field indicates the date and time of updating the information in the catalog.
* Above the catalogue table there are links to pages with a description of the catalog, a description of the type of oil seals, an on-line catalog of oil seals.
* The catalog of oil seals for power steering systems is presented in the form of an Excel book containing two sheets, Catalogue by dimensions and Catalogue by SPS.
The contents of the tables placed on these sheets are identical, the only difference is in the way of sorting the list.
On the Catalog by dimensions sheet, by size, and on the Catalog by SPS sheet, according to the oil seal' catalogue number.
* column Retail price PST w/o VAT - retail price from the warehouse PST service s.r.o., excluding VAT
* column price w/o VAT in HOT sale is beginning from - price from the manufacturer's warehouse, if available, excluding VAT
* column discount up to ...,% - discount in relation to the retail price.
* to order oil seals from the catalog, insert the required quantity for each oil seal in the cell of the corresponding column
(The order from PST stock, pcs on a blue background, for ordering from a PST warehouse and The order from hot sale, pcs on a green background, for ordering directly from the supplier's warehouse)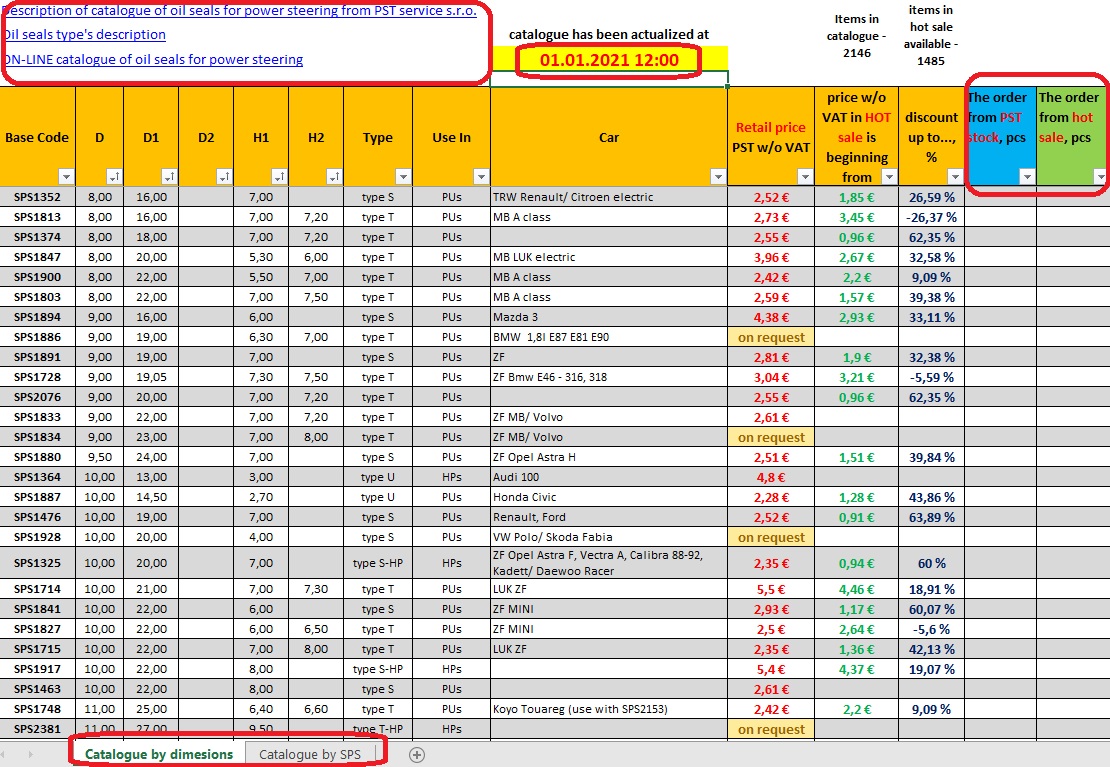 Important!

* All prices are w/o VAT (20%).
* When ordering oil seals from the supplier's warehouse (HOT SALE), the order' processing time is increased.
*Please contact us for more information,
if you
- noticed an error or inaccuracy in the oil seal catalog,
- are interested in buying a strictly defined type of oil seal and are not sure of their choice,
- did not find the required type or size of the oil seal in the catalog.
- have any questions regarding the catalog or the order of oil seals.
Download actual file with oil seals catalogue and hot sale' items available for ordering